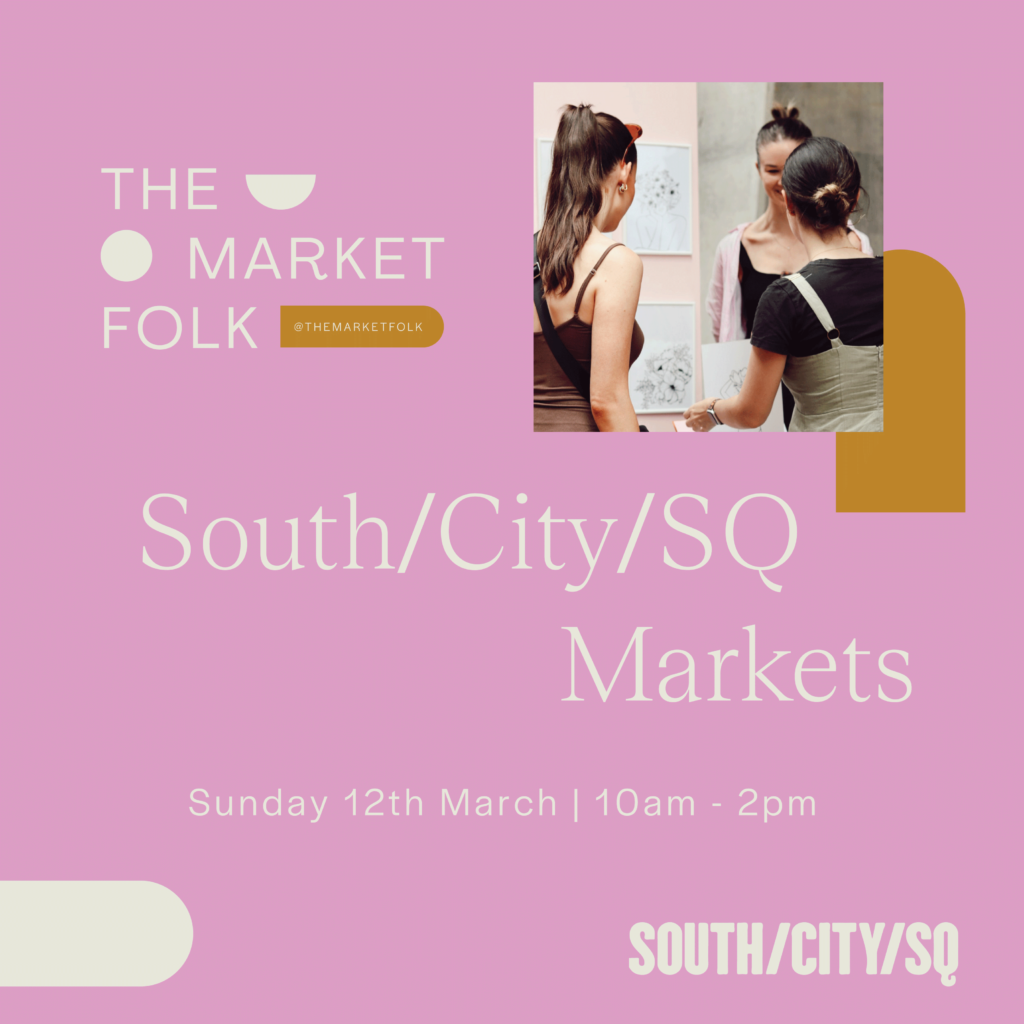 Market Preview: South/ City/ Sq Design Markets 12th March
This Sunday we are heading back to South/City/Sq! With 40+ stalls filling the new and improved South/City/SQ precinct, you can feed your home décor obsession with a range of art, ceramics, homewares, candles, pots and plants. Treat yourself to some self-care essentials from your new favourite skincare & relaxation experts, or pick up some adorable toys and crafts to keep the kids busy over school holidays
Stay social! Invite your friends on Facebook, follow the action on Instagram and once you've arrived, don't forget to snap the market fun using #themarketfolk so we can see too!
Shopping Highlights
Spotlight on...
Left to right: Lava Living, Luna and Sun Label, Studio Arc, Duchess of Sweet, Rebel Art Creations, Pluto and Ally Treatery, Flowature, The Tasty Pocket, Iced Tea Co
Design Stalls
Love to browse online first? Instagram handles of our groovy line-up can be found below:
@bakedby_mg
@slowintentions_
@thetreatery
@rebel_art_creations
@thewellcollective.au
@crosslanecandles
@spotpack
@flowature
@duchessofsweet
@mintkissfinejewellery
@untamedgypsy_apothecary
@lava_living
@icedteaco
@rippleandco
@cheekylittlemonkeysjewellery
@robetherapy
@kaiowens_art
@biggiesrawpantry
@stonetreecollection
@earthsgift.co
@gingerbreadbydesign
@eethos.co
@annaturnballart
@twoclayhearts
@pureglosoycandles
@honeysplantclimbers
@thetastypocket
@happyheartceramics
@fritzweinersqld
@habitat_candleco
@luna_and_sun_label
@cest___lamour
@luisaluxe
@rufusanddaisy_thebrand
@x._pottery
@studioarco
@jadorelescrepes
Food and Drink
We've got The Tasty Pocket, J'adore Les Crepes and Mr Fritz food trucks on standby for your market pitstop.
Check out some of South/City/SQ's newest eateries to indulge in your choice of cuisine, including flavourful fusions from Italian, Japanese and Latin bars and restaurants. Sit back and relax with some live music in the courtyard too.
Left to right: Fritz's Wieners, Felix Green Café, Casa Chow, Ha'ne Sushi, Tasty Pocket
When
Sunday 12th March
10am – 2pm
Address
South/City/SQ
148 Logan Rd 
Woolloongabba, Brisbane, 4102
Getting There
Entrance to South/City/SQ is via Logan Rd/State Route 95
3 hours free parking in the underground car park 
Public transport: Easily accessible by train and bus. It is approximately 1km (15 min walk) from Woolloongabba train station, and on the 204 and 61 bus routes
Cost
Free all ages, dog friendly event! All are welcome.
To see access details visit www.themarketfolk.com.au
We'll see you there! #themarketfolk