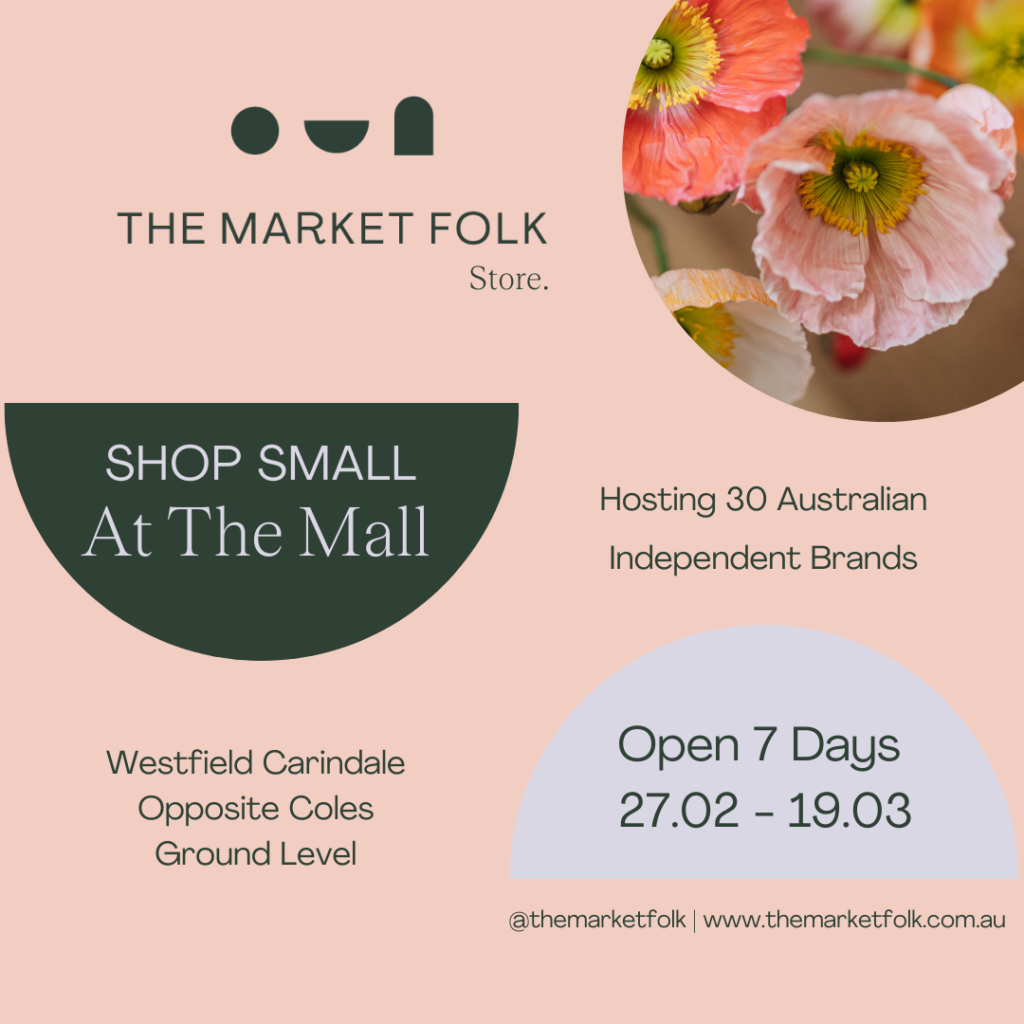 Carindale Store – Our Last Week!
We cannot believe it is now our last week in our kiosk space at Westfield Carindale, we have selected a position amongst the hustle and bustle of the marketplace/ dining precinct. The store has been open for 3 weeks finishing up this Sunday 19th of March.
The store is located on ground level outside Coles and will be open 7 days a week. Hosting 30 Australian independent brands, our lovely retail crew can't wait to welcome you to the space.
Brands Stocked in Store
Esther Varga
PrimmyDenis
Kamelion Studios
Allegra's Artisan Cakes
Cheeky Little Monkeys Jewellery
Flossy's Arts
Island Escape Living
Julsi Handmade
Anandi Designs
GeeGee Skin
Hello Joy
a hop and a skip
Kira Kiras
Pure Glo candles
Zak's Place
Luisa Luxe
ELISARA | Skincare & Aromatherapy
Fossicked and Found
Ruth Cadioli
Måla Paint by Numbers
Le Lapin
East Forged
Lara's Ink Art
knobbly.
Mountain Lotus
Welded Bracelets
Hello Lola
The Nour Collection
Unbalanced Active
Where to Find Us
When looking for our store, navigate to Coles – you will find us in the middle of the centre court. Keep an eye out for our vibrant range and market furniture!
Brand Spotlight
Shining the spotlight on some of our wonderful participating brands…
Featured: Hello Joy, Pure Glo Candles, Nour Collection, Fossicked and Found, Anandi Designs, Elisara, PrimmyDenis, Ruth Cadoli, Kira Kiras
Preview our Furniture Range in Store
If you have been following along on socials we recently announced a first look of our upcoming market furniture range. We were blown away by the response! We will have a handful of signature pieces in use at the store to showcase the pieces prior to launch. Keep an eye on socials as we style them up!