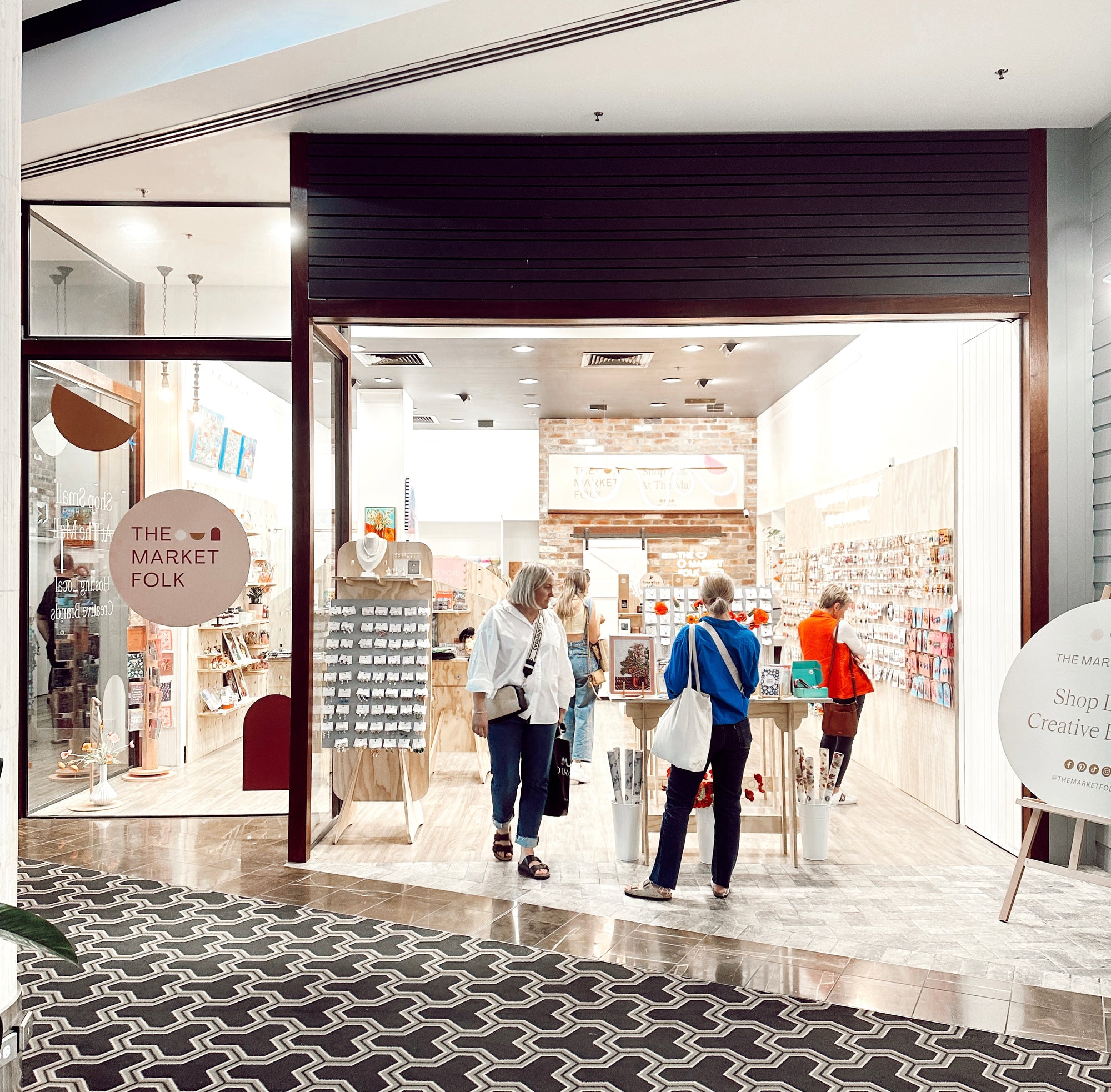 The Market Folk Store: Mother's Day
If you're looking for the perfect gift for your mum or mother figure this Mother's Day, look no further than The Market Folk Store - Westfield Carindale. Our store is home to a variety of local makers who create unique and beautiful handcrafted products that are sure to make your mom feel special.
From hand-poured candles to artisanal rocky road, our store has something for every mum out there. We pride ourselves on supporting local artists and makers, and our products are always one-of-a-kind and made with love and care.
Shopping at our store not only means finding the perfect gift for your mum, but also supporting your local community. By supporting local makers, you're helping to keep the creative spirit of our community alive and thriving.
List of Vendors
Artfolk
Esther Varga
Elle's Balcony Garden
The Well Collective
Auburn Designs
Duchess Of Sweet
Totes Weird
Craft With Sav
Dashdu
Flossy's Arts
Julsi Handmade
Zyllion
Sweetpea flora and gift
Hello Joy
JamesAndMae designs
Kira Kiras
Two Clay Hearts
Pure Glo Candles
NOM Handcrafted
Life Kreations
Kalyca Studio
Beansprout Studio
NeNe & Bop
Collectively Keys
Bunny Tail Designs
Vera and Co
Zak's Place
Dreamy Melts Co
Jericho Road Clothing
Bulbul Home
Bicky Bop Designs
The Non Alcoholic Club
Arcenciel Collections
Botanical Blue
Fat Kitten Creative
Rainbow Dee
Sewn.
My Family Rulers
Debra Hood Art Pty Ltd
Earring Wall
Looking for a unique and eye-catching Mother's Day gift? Look no further than our epic 5m long earring wall, filled with stunning designs from local designers.
Our wall features an incredible selection of handcrafted earrings, ranging from bold statement pieces to delicate and dainty styles. Each pair is made with care and attention to detail, and reflects the unique style and creativity of the local designers we support.
Whether your mum prefers hoop earrings or studs, tassels or beads, there's something for everyone on our earring wall. And with such a vast selection to choose from, you're sure to find the perfect pair to suit your mom's taste.
Not only are our earrings beautiful and unique, but they're also an affordable way to support local designers and makers. 
Vist Us
Our store is more than just a place to shop, it's an experience. We invite you to come in and browse our selection of handcrafted products, meet the makers behind them, and discover the stories behind each piece. You'll find unique and beautiful items that you won't find anywhere else, all while supporting the local economy.
So come visit our creative boutique and find the perfect gift for your mum this Mother's Day. With our selection of handcrafted products, you're sure to find something that she'll cherish for years to come.
Located on Level One Shop 352 - Westfield Carindale - 1152 Creek Road Carindale (Follow the signs to Target)